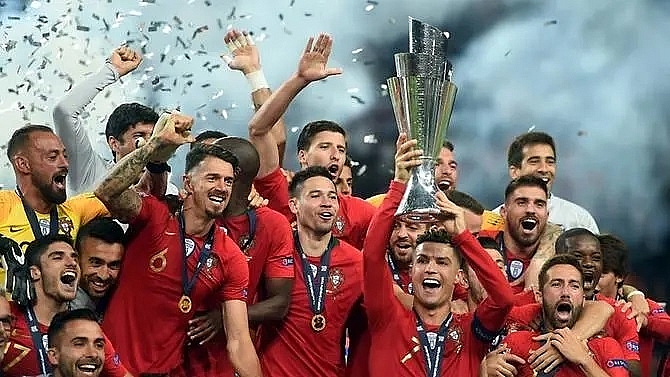 Yesterday Portugal won the first UEFA Nation League finals. Even of the captain of the team Cristiano Ronaldo has 157 appearances in the national team and scored unbelievable 88 goals the team itself consists of many less experienced players. Since Portugal had a few star players the last 2 decades, first Luis Figo then of course Ronaldo, so the expectations in the team were high. In 2004 in their own country the silver medal was considered a loss, especially because the winner Greece was an underdog. The coming years they experienced despite all their individual strength that it is difficult to win tournaments. In 2016 they finally won the European Championships 2016 but in the world cup last year they didn't even reach the quarterfinals. So what did the coach do? He rebuilt the team, only 3 players from 2016 still are part of the team, Rui Fabricio, Pepe and Ronaldo. A lot of young players with a new kind of discipline were given the chance to represent their country, still very skilled and technical players as Portugal always had, but also very hard working. Yesterday when the Netherlands started a quick counter attack, almost always at least seven players of Portugal were rushing home, including the superstar Ronaldo. Despite having won the European Championship as recently as 3 years ago the head coach Fernando Santos did this radical rebuild.
Experts are less surprised about rebuilding the team on their opponent side: When Ronald Koeman took over the Netherlands, they had missed to qualify for the world cup in Russia 2018, something their supports are not used to at all. However Koeman managed to bring back his "Oranjes" from a mediocre performing European team to top level again and it was well deserved to challenge Portugal in the finals. Similar to Santos he has a few older player in his team, as Daley Blind or Ryan Babel, but has carefully selected a quite young squad who all perform under his tactical system. And even England achieving third place and their first international medal since 1968 have a squad who are much less depending on individual players as they are used to.
So the conclusion to be drawn from the results is that the best performances can be achieved with an excellent blend, good tactics and discipline – and some trust, such a team will probably not win each game, but most of them! This is not only true in sport, the same you need when you select and build your transformation team. An aspect that very often is underestimated, I have seen too many transformation projects where the tactics and team work was not in place. Just because you have succeeded before, you cannot run your workstream with your own agenda. In a transformational journey the workstreams need to play together, it is just as in football!
BTW: If you are a leader that believes extremely hard in your personal style only, you need to pick the right projects and will also be very successful. As an exemple I refer to the French Open in tennis this weekend, where the worlds nummer 1 to 4 made it to the semifinals. Four great individual players who showed astonishing tennis. For leaders with no willingness to adapt the leadership style to the team, there are for sure projects like the tennis tournaments to – it is just not transformation journeys! Those are closer to football than to tennis in their characteristics, so therefore we shall address it also in the way to build winning teams and not individual champions!
Yours
Herwig