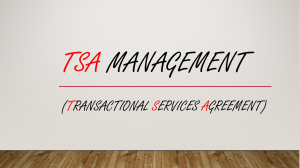 After closure of a deal delivery of TSA (Transactional Services Agreement) services is often necessary for a longer period. Whereas the seller plans to move forward and leave the divested business behind, the buyer often is not ready to run it without further support by the seller, especially if it was a major carve-out. While the seller does not want to spend energy on it, the buyer has it as a necessity for the acquired business. SLAs (Service Level Agreements), terms and conditions , duration and terms to terminate or prolong the TSA services are regulated in the contract. Unless there is a good incentive for the buyer to get out of the TSAs there is often the tendency that the maximum contractual period is needed to cut the string fully. This is not in the seller's real interest.
Ideally the TSA Management is well prepared already during the separation design by the separation lead. Once the TSAs are established the first focus is on achieving the agreed SLAs and invoicing correctly. However as soon as the buyer allows a new joint planning phase shall be started to define the ext out of the TSAs, step-wise, in a "big-bang" or in a combination of both. We bring a lot of experience from such post-divestment projects and can support you on winding those TSA services down in an efficient way without violating any contractual towards the buyer and without impacting the buyer's business in a negative way. By outsourcing this to us you can immediately focus on your main business again once the deal is closed.
We want to focus on your success also after the closed deal and therefore we offer innovative business models when we take on the TSA management position in the last phase of a divestment project. We can also provide those services based on the normal "time and material" model as all consultancy companies but we prefer to discuss with you a model that is generating value through a fixed price combined with bonus payments if targets are achieved or exceeded. We strongly believe in sharing the incentives as a differentiator and this justifies or claim to be "the change maker".