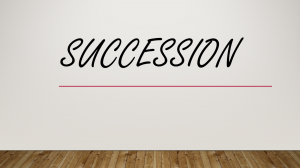 At a point in time you may come to the conclusion you are done with your business, you want to retire or you simply want to do something else. There are a lot of consultancy firms on the market that can support you in valuation of your business, pitching it, finding potential buyers and negotiate the deal with them. We sometimes cooperate with them, we sometimes compete with them, but we want to offer you something different. If you just want to find a buyer quickly and get whatever purchase price you can get, stay with those other players on the markets, they are better geared up for this.
But if you want your  "baby" to survive long-term, if you want to find the right successor for taking over, maybe you want to do a smoother hand-over, not just dropping it immediately then we can make the difference. We engage in the following way:
First consultancy free of charge: You explain your ideas and "pitch" your company to us
Secure a "match" and decide the business model: We conclude if we judge your ideas realistic and propose a model to together define and execute the wanted change *)
Execute the change: We stay with you until the change is completed, even if this is a longer process
*) The model might be quite different with a broad range from
a straight sale of the company,
some changes to be done before pitching to the market ("dress the bride"),
changes to be done together during handing over to a buyer to secure long-term success,
taking an active operative role for some time by us
to even investing from our side.
We want to base our income for this support mainly on the value we create and less on efforts spent. If we contribute high value we shall be paid well, if we fail we shall suffer economically – as true partner to you.