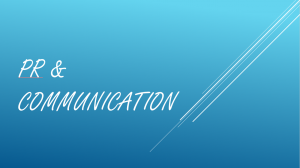 We take care of your strategic PR, pressreleases, all media exposure and booking of interviews in the RIGHT media for you to be present in.
We have long experience of working with well-known TV stars, artists and companies to reach an exposure far "out of the box".
Take market shares of your competition and reach out to the public, get the attention you are worth!
Media strategies/plans
Press releases
Campaigns
Releases
Promotion tools
Packaging of your brand towards your target audience
Launch
Lecture
Web
Cooperation with others that creates value-add for your brand
Concerts
Booking of interviews and articles
Creation of Image/Brand
Crisis management
We work of course always with full confidentiality towards our customer.
Follow us: Follow Tovoy Solutions