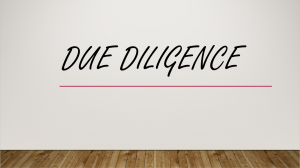 In the Due Diligence phase of an acquisition or a planned merger we can support you as a seller or buyer with among others following services:
Management and organization of your Due Diligence team to secure you get quality on time:

For the seller: Secure the composition of your data room with quality data, as well as efficient treatment of the potential buyer's questions
For the buyer: Secure an efficient split of work in your team according to main competence and composing this to valuable reports

For the seller: Planning of the separation, especially in carve-outs this is often a high complex task that if done well can contribute to defend or increase the purchase price for your sales object – see Separation Design
For the buyer: Initiate an implementation plan already in parallel with Due Diligence which enables you to see the total cost of the acquisition and following integration into your operations. This initial plan will give you more confidence in our decision material and can eventually deliver arguments to defend a lower purchase price – see Integration Design
Support to the workstreams with templates, check-lists and industry best practises – both for seller and buyer
Support of your M&A process, depending on your maturity with M&A we can both for you as seller or buyer do one or several of the following

evaluate and improve your existing process
if you are new to the discipline guide you on establishing a process
if wanted taking the responsibility to create your process from the scratch
Based on our experiences we strongly recommend you to include key stake holders all through the process, so that your M&A project will be well anchored. We can advise you about the reasonable involvement of the different stakeholders in that phase.
If you are planning to retire and sell-off your company we have efficient processes to use so that we minimize the impact on your company and the risks of a coming change of control as well as we will support you on achieving the optimal purchase price.